Featured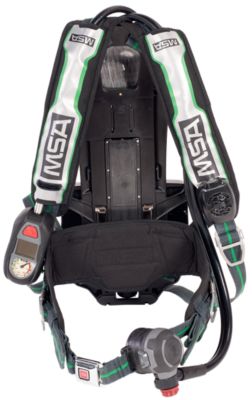 MSA G1 SCBA
The G1 SCBA offers integrated and enhanced solutions to exceed your needs today as well as years into the future. MSA's long-standing commitment to the fire service industry began nearly 100 years ago. Our goal is to provide dependable, high-quality products, instruments and service that will help to ensure a safe return home. MSA's extensive knowledge and expertise has helped to harness new technologies to produce exceptional protective equipment.
Featured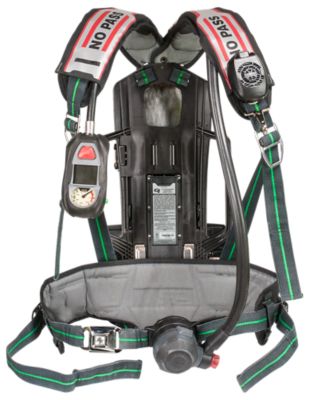 MSA G1 SCBA NO PASS
The MSA G1 NO PASS SCBA is yet another testament to the user focus that MSA brings to the fire service. Incorporating the latest in firefighter safety and technology. There are times on the scene where sudden movements or loud noises might not be a good thing, HAZMAT and law enforcement for example. To meet the needs of these first responders MSA has developed the MSA G1 SCBA NO PASS.
Featured
MSA G1 5500 SCBA
MSA's tried-and-trusted G1 SCBA now comes available in a 5500 psig operating system. Our lowest profile, most comfortable, streamlined and balanced SCBA can now be configured with the lightest weight cylinders on the market today, reducing stress and fatigue while increasing maneuverability in confined spaces
Featured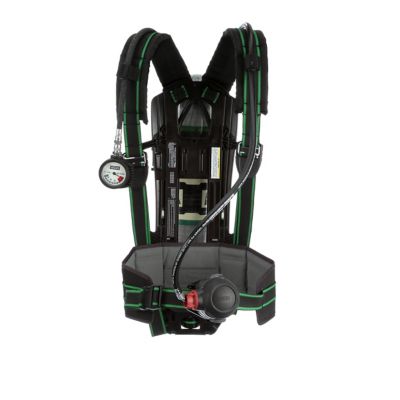 MSA G1 Industrial SCBA
The industrial version of one of our most trusted products in the Fire Service industry, the G1 Industrial SCBA contains many unique design features that reduce stress and fatigue while improving performance and ease of maintenance. The new G1 iRC (industrial remote cylinder connection) version is a SCBA platform that features a remote cylinder connection, available with both threaded and quick connect attachments. It allows for cylinder compatibility among other MSA SCBA such as the G1 NFPA, Airhawk 2 and Firehawk M7.
Featured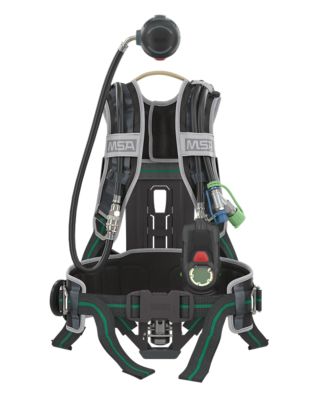 MSA M1 SCBA
The M1 SCBA  is fully customizable and can be configured to meet a broad range of firefighter needs. Buy per your budget needs and upgrade later – directly in the field. Overall, the M1 breathing apparatus represents the most advanced, ergonomic and modular SCBA system on the market which was designed and developed side-by-side with firefighters. This all-new breathing apparatus platform includes several innovative and customizable features that help to enhance hygiene and improve comfort.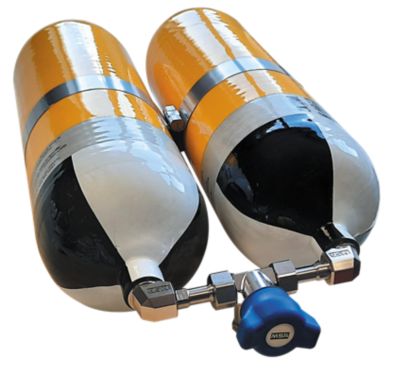 MSA M1 Twin Pack
The M1 SCBA Twin Pack assembly enables the combination of two compressed air cylinders (each 6.8l) without the need to rely on a standard T-Piece connector. First responders in special missions where 'more air' is required will need to rely on a source for extended air.
AirHawk® II Air Mask
Lightweight, durable and economical, this SCBA keeps contaminants at bay. Ideal for a variety of industrial-hazard applications. Choose from a variety of options for each of the system's six major components including: face piece, carrier and harness assembly; cylinder; first-stage regulator; mask-mounted regulator; and end-of-service time indicator.
Discontinued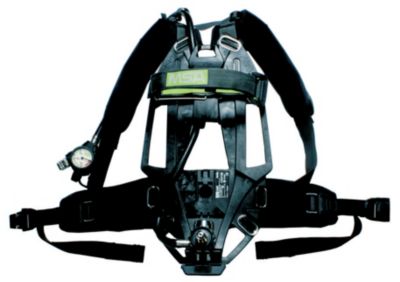 AirGo SCBA
This high-quality preset provides comfortable, outstanding respiratory protection. Ruggedly reliable and flexible, it's a popular choice for a wide range of maintenance or rescue operations, including firefighting. Designed to reduce stress and fatigue. This product has been discontinued. Please visit MSA M1 SCBA as a replacement.
Discontinued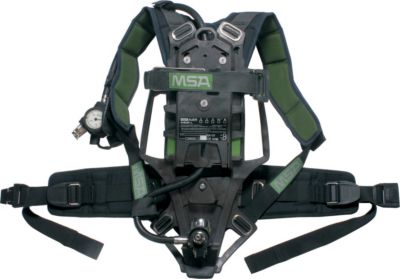 AirMaXX SCBA
This high-quality SCBA provides comfortable, outstanding respiratory protection. Ruggedly reliable and flexible, it's a popular choice for a wide range of maintenance or rescue operations, including firefighting. Designed to reduce stress and fatigue. The ergonomically designed and optimally balanced AirMaXX backplate is adjustable to fit all body sizes. Based on decades of experience, we also offer two SCBA presets: AirMaXX & eXXtreme – configured systems for the most common applications. For high-frequency and extended SCBA wear, maximum user comfort translates directly into increased performance and good health. The AirMaXX SCBA preset combines premium ergonomic features with advanced technology to provide the best experience in SCBA wearability available today. If you are using your SCBA frequently, for long periods at a time or require absolute concentration in your work, the AirMaXX is the system of choice. The continuous exposure to flames and heat from recurring hard training takes an especially hard toll on equipment. The eXXtreme preset utilizes special materials to reduce maintenance and cost of ownership of critical components that would otherwise require frequent replacement in such extreme applications. Trainers and others who work in repeated high-heat and flame circumstances choose eXXtreme.