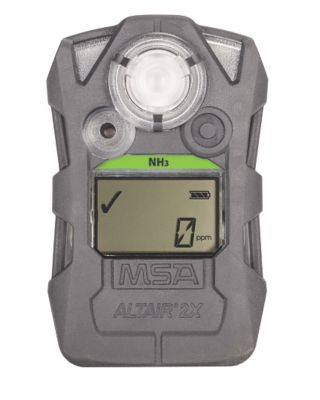 The revolutionary ALTAIR 2X Gas Detector platform welcomes a new sensor to the family – the XCell NH3!
In 2010, MSA launched the MSA XCell Sensor platform, a breakthrough in sensor design and now powering the ALTAIR 4X, ALTAIR 5X Wireless and the most recently launched ALTAIR 2X platforms.
MSA's XCell sensor technology enables faster response and shorter span calibrations, saving you time and money. Most importantly, however, these faster response times help to save lives – every 3 seconds saved in response time means your workforce will escape an additional 10 metres from a hazardous environment. Every second is precious.
We have very good news for our readers within refrigeration and cold storage, food & beverages, wastewater, power plants, oil & gas, inorganic chemical plants, HazMat, pulp & paper and other industries…the ALTAIR 2X NH3 is now available!
With the launch of the ALTAIR 2X NH3 XCell sensor, this industry leading sensor technology is now available for your ammonia detection needs, helping to increase the efficiency of your workplace and ultimately keeping your employees safe.