MSA: Connected!
IMPROVE YOUR SAFETY WITH DIGITAL LEARNING
Watch our Webinars and Gear Talks to discover industry trends and MSA's latest solutions for the Fire Service.
Schedule your product demo
Get ready for the future of breathing protection?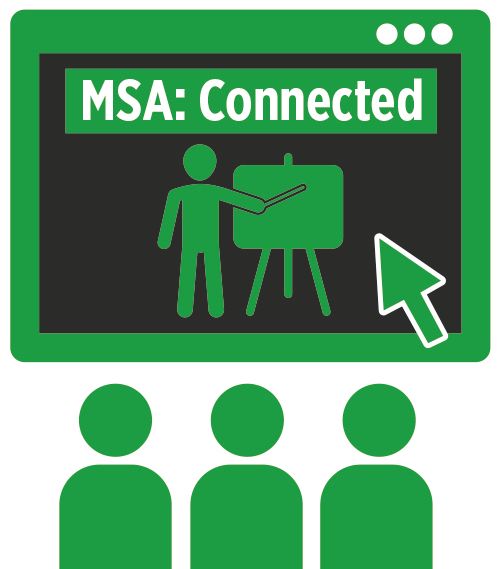 Even though INTERSCHUTZ was rescheduled to 2021, we didn't want to miss the opportunity to meet you in June. Under the theme MSA: Connected we had a week of digital activity focused on Firefighter Safety and Health – for Now and for the Future.
In the week of 15 to 20 June MSA experts discussed our M1 breathing apparatus alongside key industry topics including cleanability, voice communications and electronic devices. Finally, we gave you an exclusive outlook on our new technologies coming in 2020/2021 and presented you our vision for the future.
MSA is dedicated to innovating on behalf of firefighters around the world to help ensure their personal protective equipment keeps them safer than ever before possible.
WHAT YOU MISSED DURING MSA: Connected
Changing Requirements
for Firefighters
Learn why the choice of the right SCBA is crucial for firefighter health and safety and how MSA can help to keep your team safer than ever.
Be Ready for the Future of Breathing Protection
Don't miss our exclusive future outlook on our new technologies that will take your safety to a new level.
Improve communication in the most dangerous environments
When your team arrives on the scene of a fire, it is critical to share information quickly and accurately from the very first minute.
Our solution: the C1 headset.
Stay AT the forefront of safety, technology, and standards
Configuration according to your needs and retrofitting at any time. With the M1 SCBA Platform and its modular approach you are ready for the future.
Experience Better
Physical Protection
The M1 SCBA was developed with intelligent ergonomics and can be customised to provide better physical protection.
Learn Best Practices to Help Reduce Firefighter Risk
The M1 SCBA allows for a deeper, more efficient clean and easy service and maintenance without compromising on safety.
SCHEDULE YOUR DEMO TODAY!
Interested in our M1 SCBA System, G1 Mask, C1 Headset, or GALLET F1XF Helmet?
Register now to schedule your demo with an MSA Sales Representative!
Firefighter Health & Safety
GALLET F1XF Fire Helmet